Mobile app project generator¶
iotize-app-gen command line interface is a mobile app project generator. It creates an ionic-based cross-platform app project from your configuration in IoTize Studio.
It can generate for you
A device discovery page to scan for BLE or WiFi Tap device around you.
Connections through multiple protocols (NFC, MQTT, Socket)
Monitoring dashboards with gauge, charts, sliders, buttons or text.
A connectivity configuration page for your device (WiFi SSID/WiFi key, MQTT connection settings)
A login page
Once the projet is generated, you can run the app on your mobile device or generated an app package to be shared:
For Google Play, generate and Android Package (APK)
For App Store, generate an iOS App Store Package (IPA)
As the generated project is a Standard ionic/angular project, you can edit source code with any code editor (works great with Visual Studio code) to further adapt it to your needs.
Installation¶
Node version 10 or a later version must be installed The download page has prebuilt installation packages for all platforms. We recommend selecting the LTS version to ensure best compatibility. Make sure the latest Node LTS is installed.
Then you can use npm to install the generator:
npm install -g @iotize/ionic-toolkit@latest

That's all you need to generate your ionic-based app project.
However, if you want to build a package for iOS (IPA) or Android (APK) you must also install the corresponding application development tools.
Usage¶
You can use this tool as a command line interface or from IoTize Studio.
With IoTize Studio¶
Generating the application with IoTize Studio is as simple as cliking.

Generate app: it generates the app project
Serve app: it generates the app project and serve it as a web app. It will be displayed in IoTize Studio web view. It's very usefull during your app developmenent as configuration changes are automatically reloaded and displayed in the Webview.
As a Command Line Interface¶
To display the CLI help, use the iotize-app-gen --help or iotize-app-gen <cmd> --help commands.
Generate an app according to an IoTize Studio configuration file (.iotz):
iotize-app-gen start <my-app-path> --tap-config <your-tap-config-file-path.iotz>

You can also generate an app with the Sensor demo configuration template:
iotize-app-gen start <my-app-path> --template SensorDemo

This command creates a working Ionic app. It installs dependencies for you and sets up your project.
The first argument is your app's name. The project id is generated from the app name unless explicitly specified.
--tap-config option is used to pass the IoTize studio configuration file path.
Once your app is generated, go to the newly created folder and run your app with one of the following commands:
# Go to generated directory




cd

 <my-app-name>


# Run on an Android device


npm run android


# Or run on iOS (You must be on a MAC)


npm run ios


# Or run in a browser


npm run webapp

The first time you run on android or iOS, it will take several minutes to install the Cordova project and its dependencies, be patient.
As the generated project is based on Ionic Framwork, you can use ionic CLI.
Generated app features¶
Tap scanner / Tap connection¶
Scan for Wi-Fi or BLE Tap or connect with NFC, Socket or MQTT.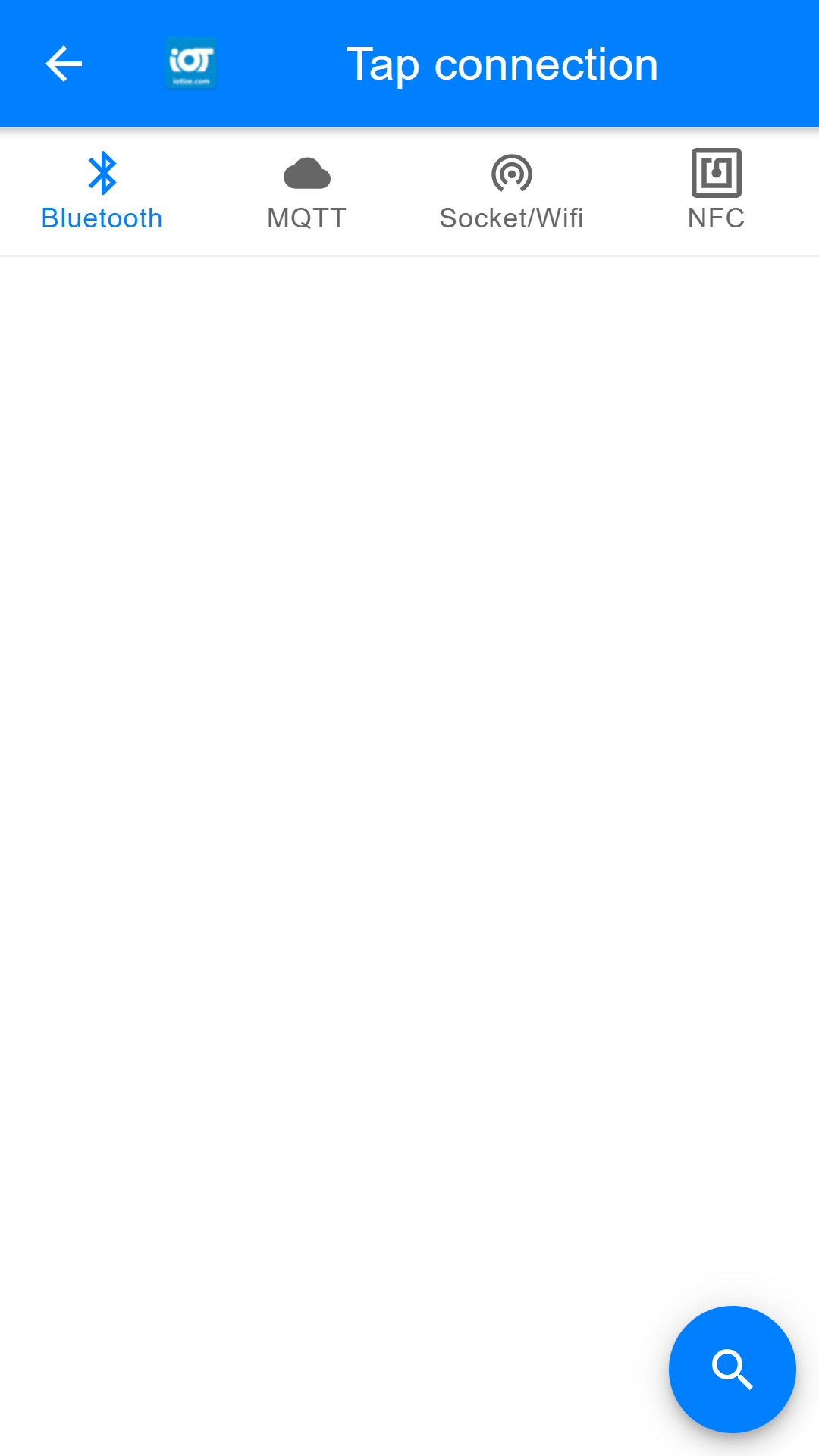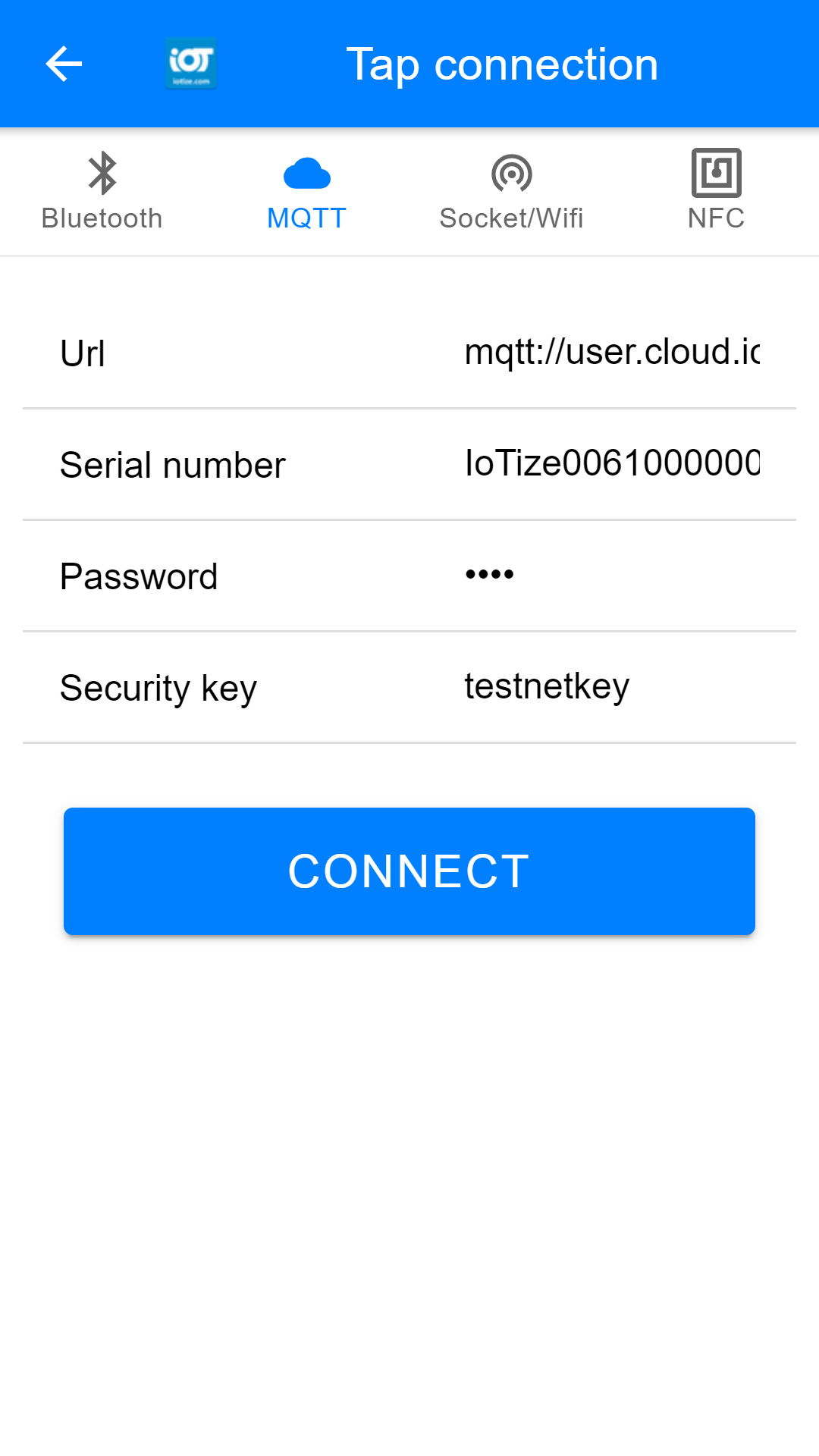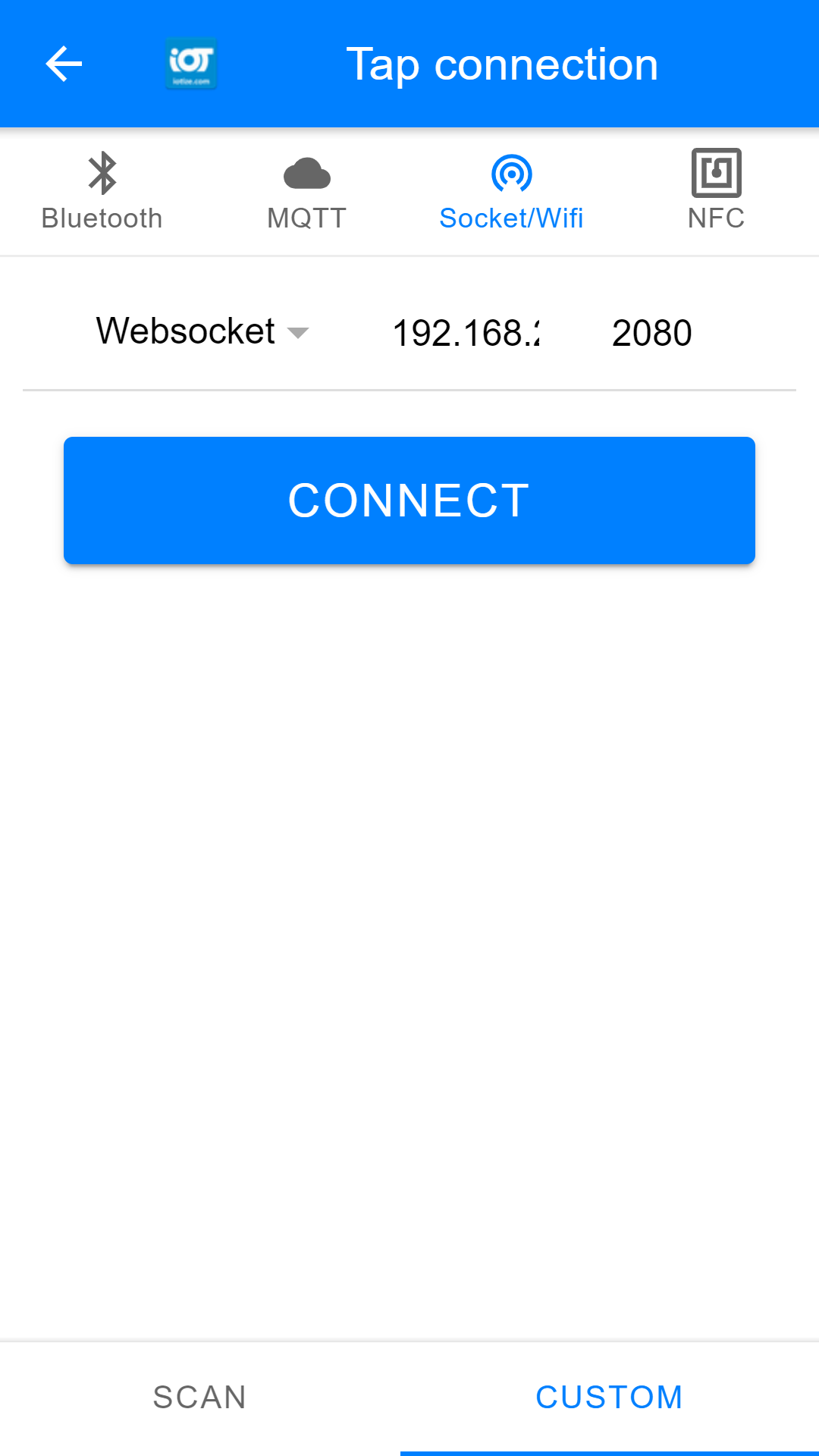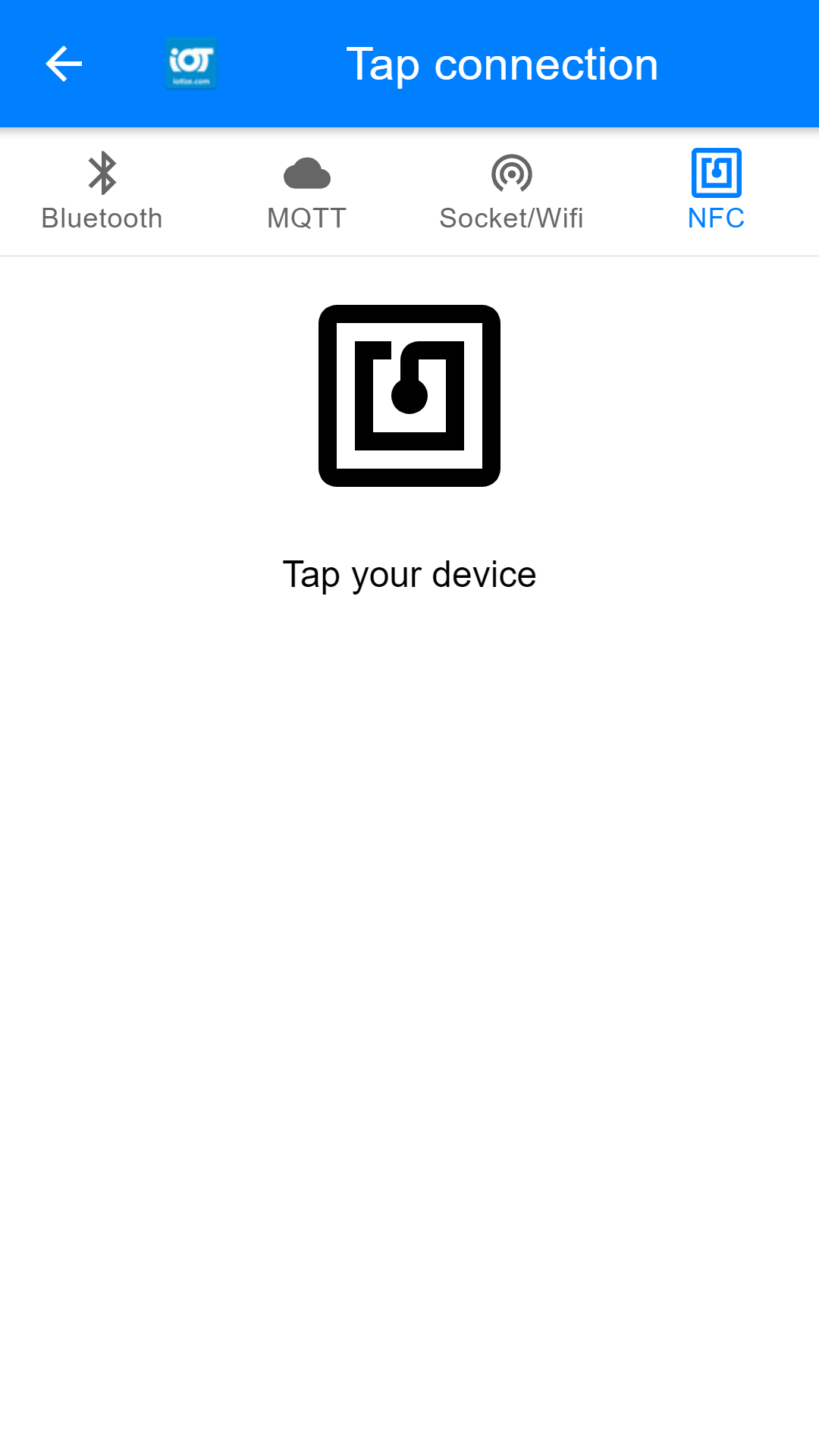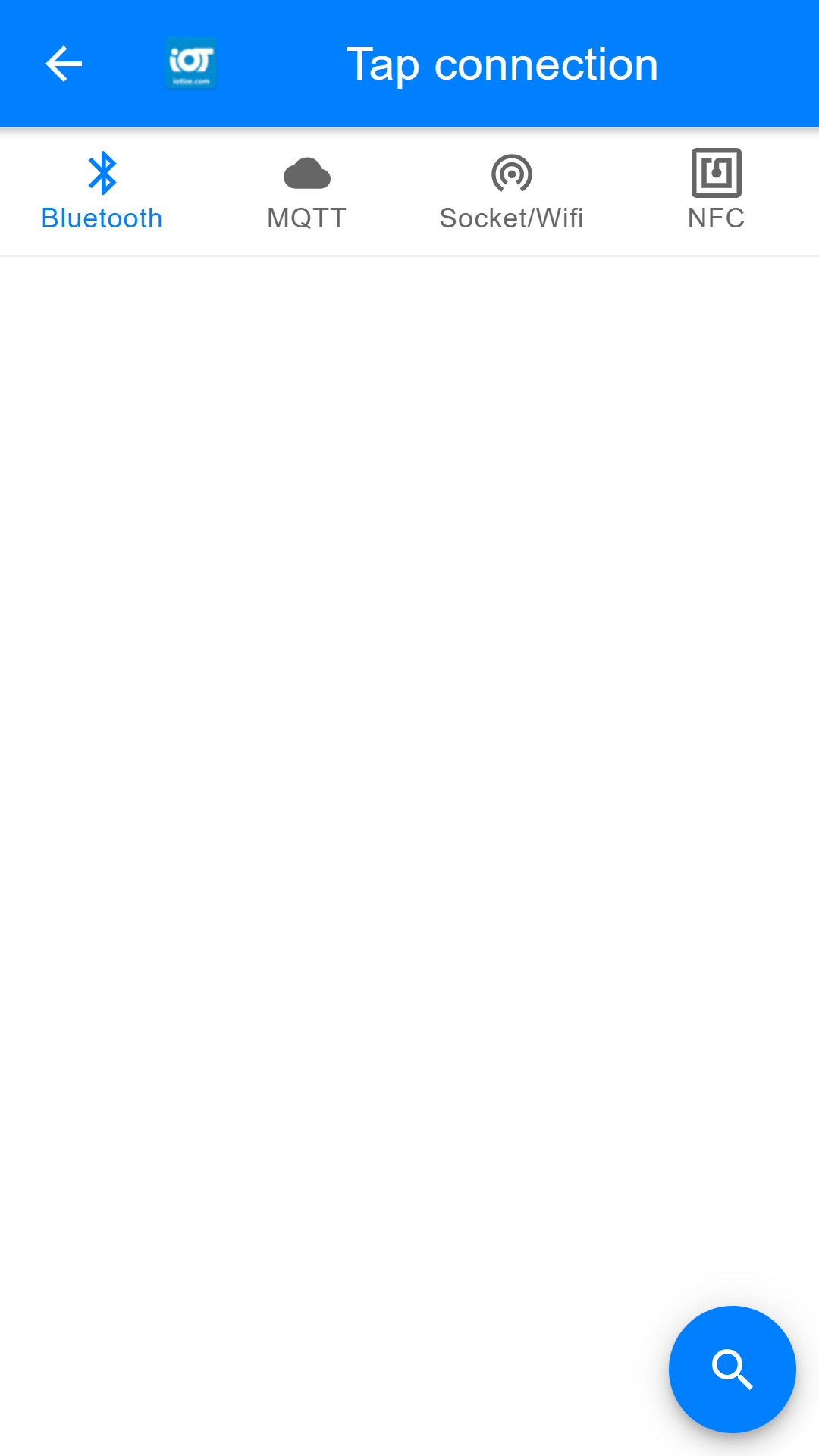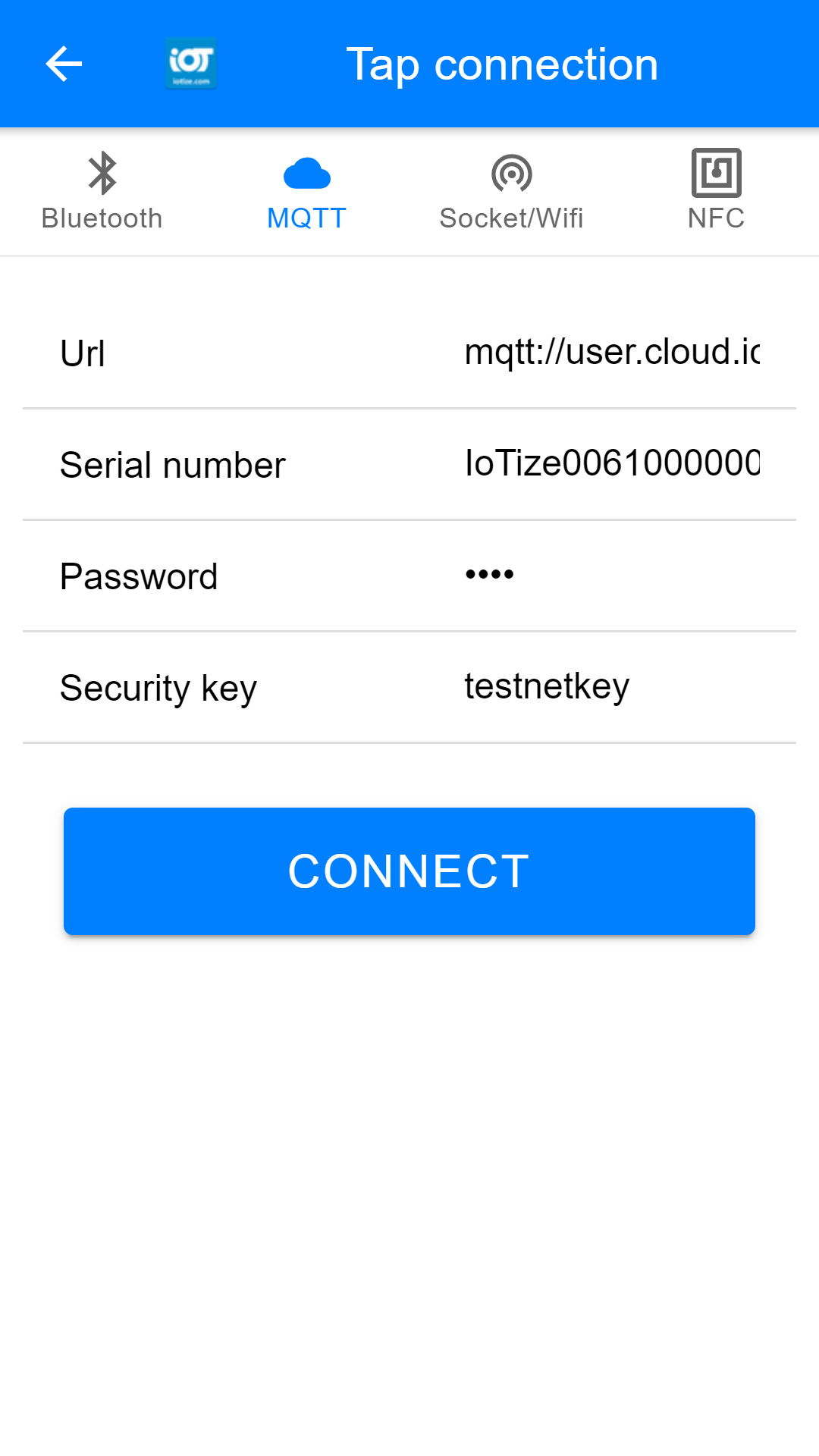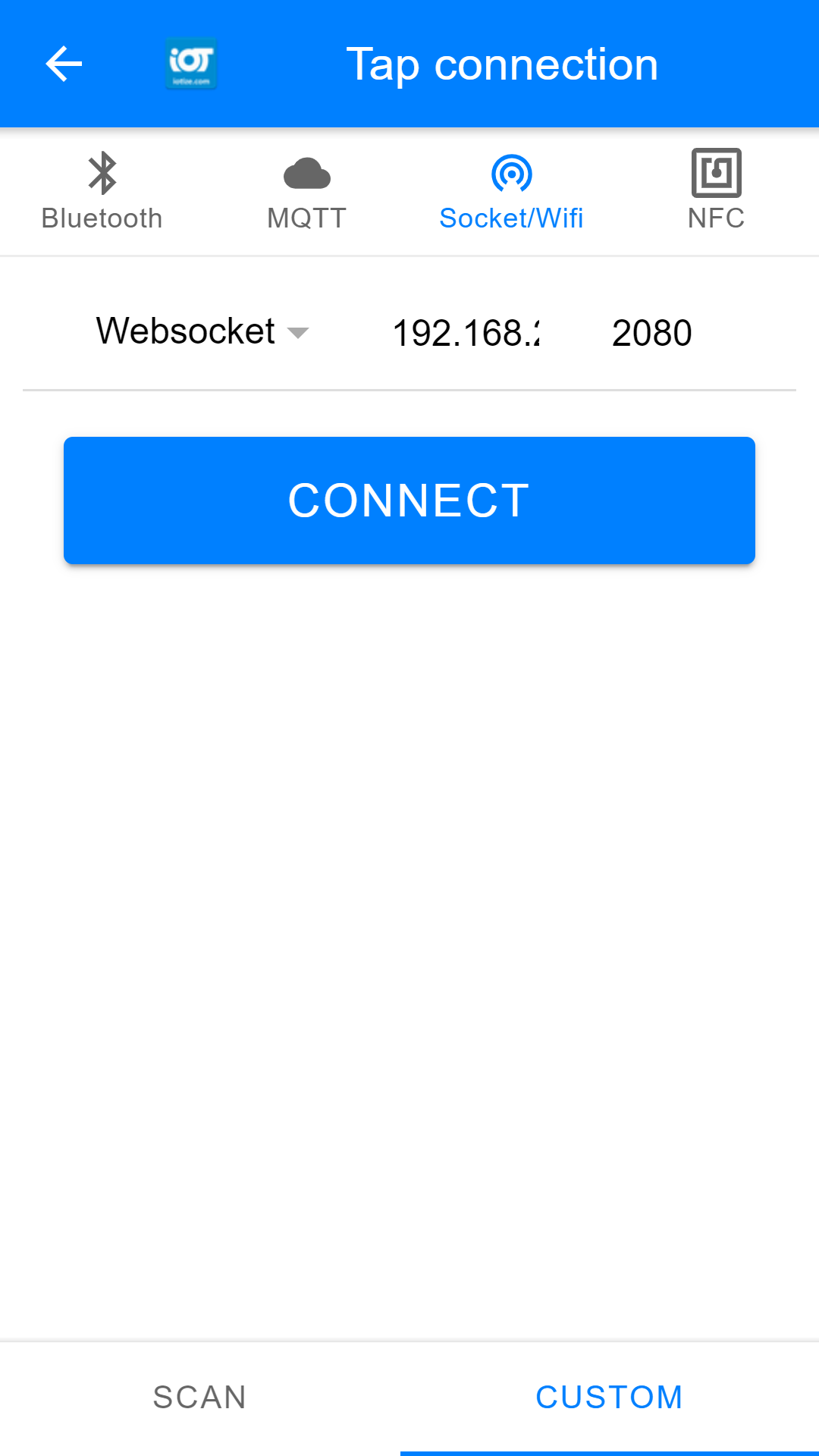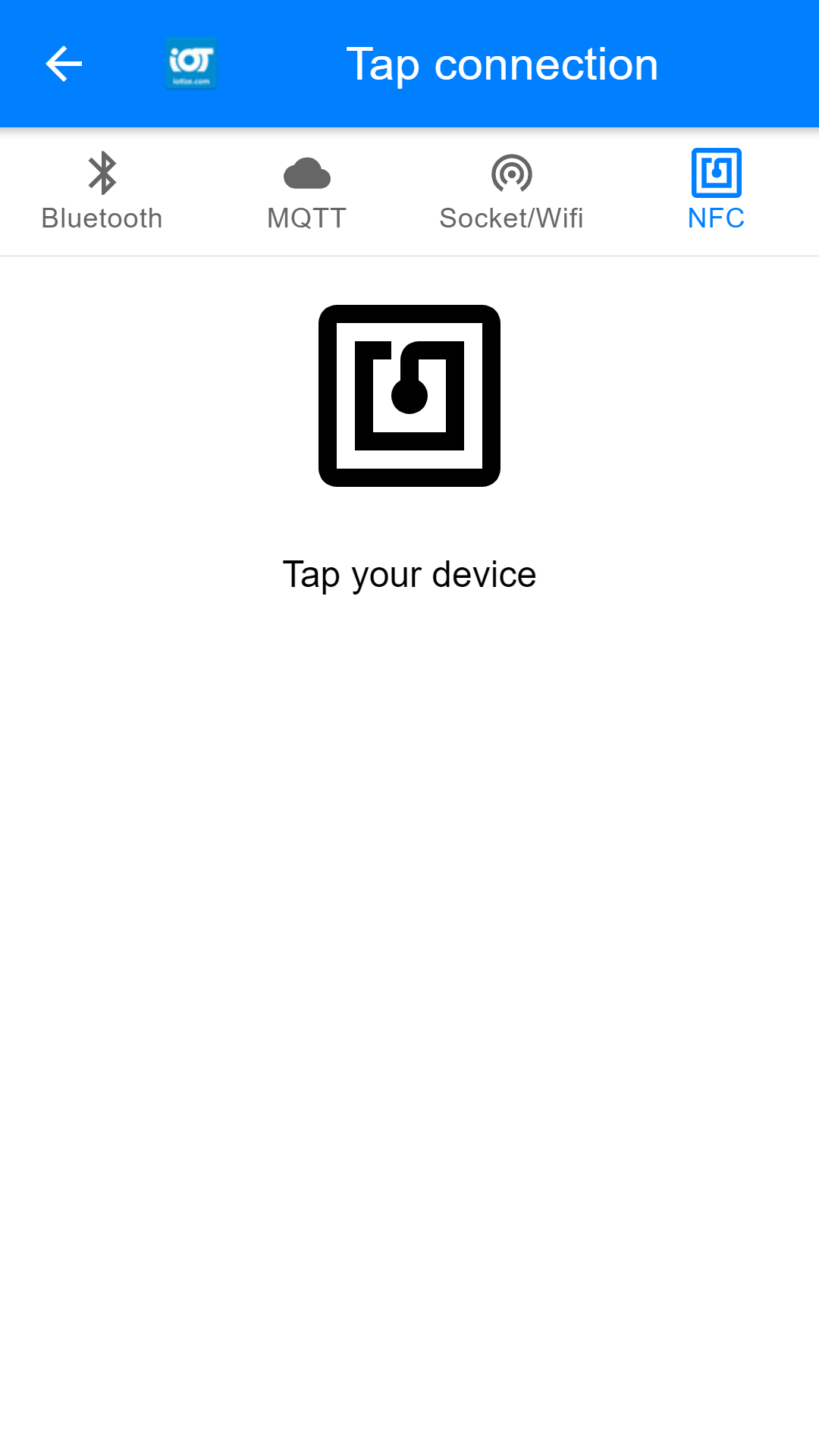 Tap info¶
Display current Tap configuration info such as the serial number, firmware version or configuration version.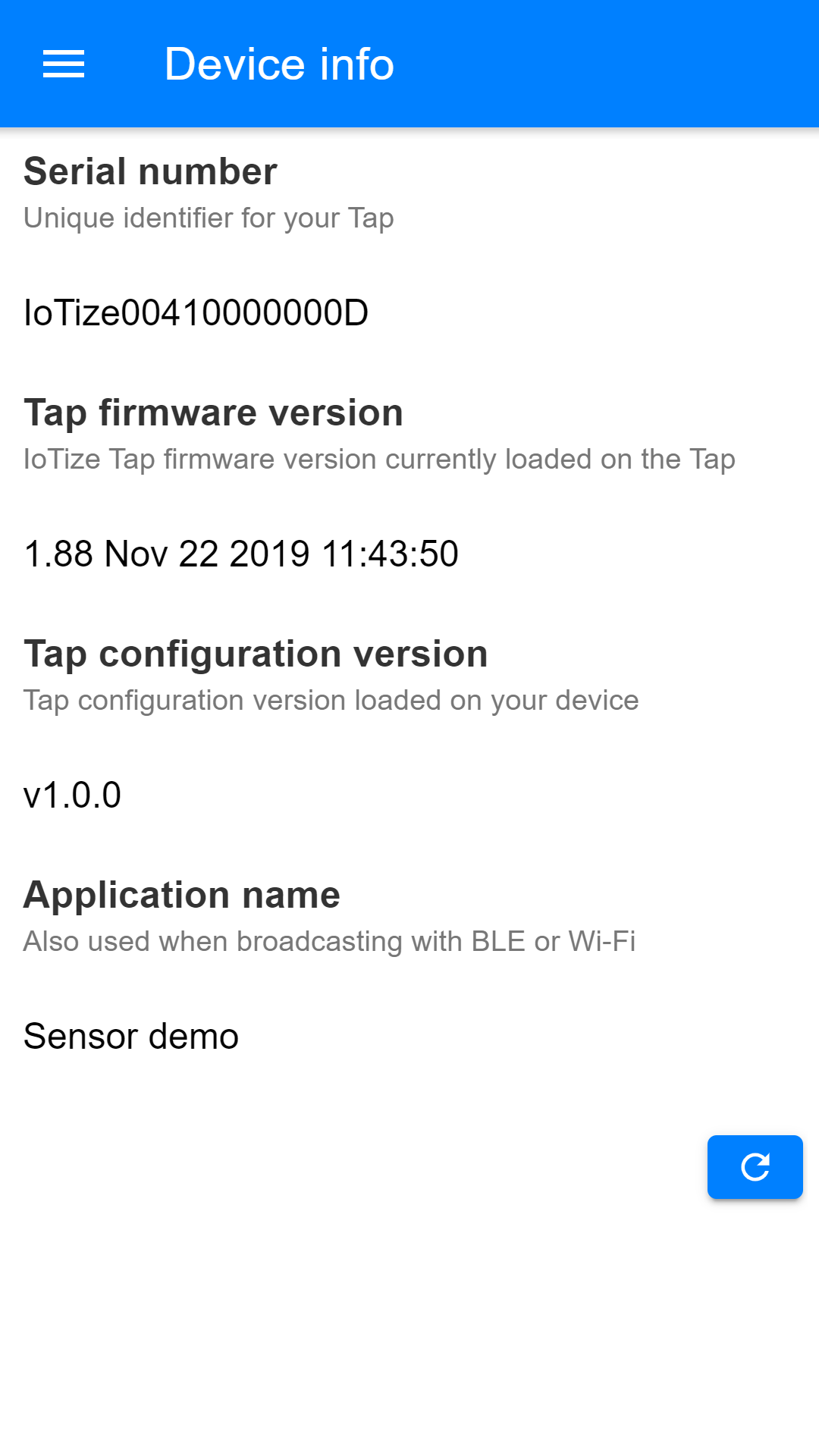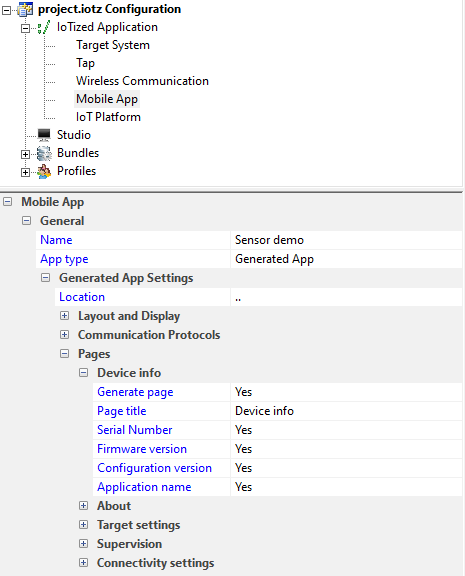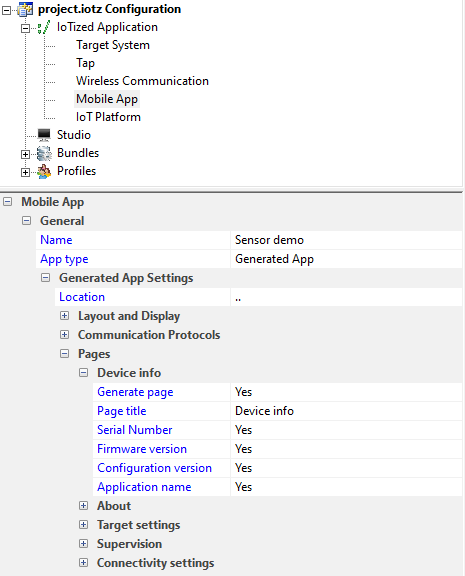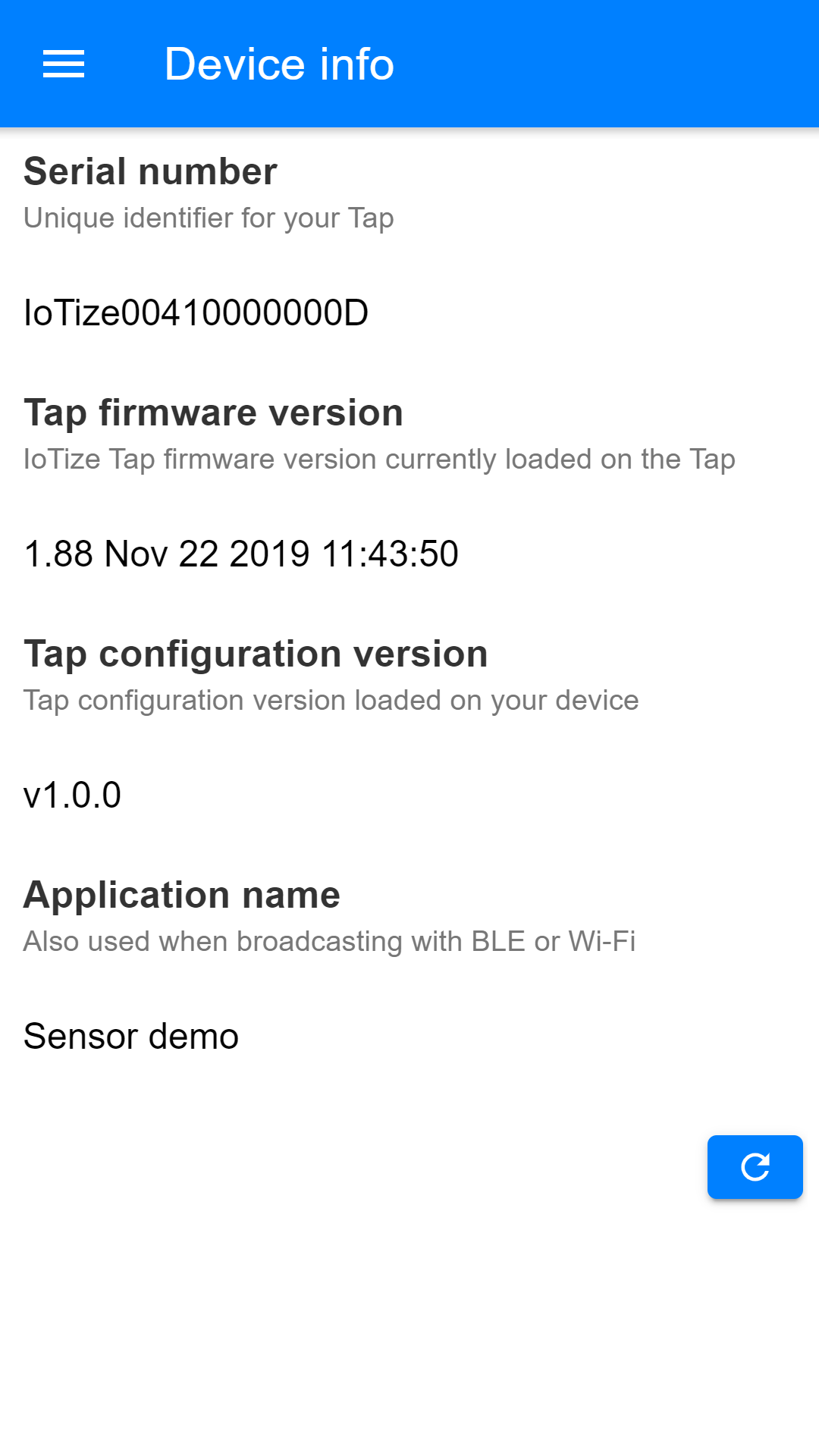 Dashboards¶
It will generate one dashboard per profile that will allow you to monitor and edit variable values.
For each variable, you can define if and how it will be displayed.
Per variable configuration¶
Show how variable will be displayed in the dashboard. As a text, a gauge or a chart for example.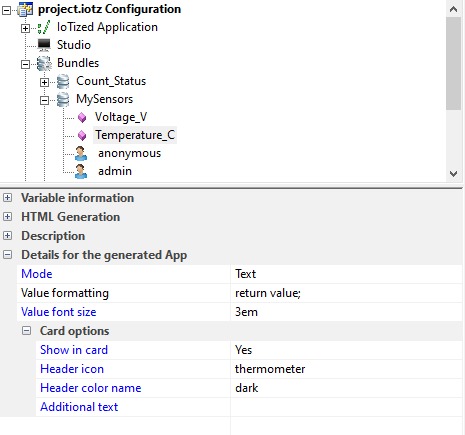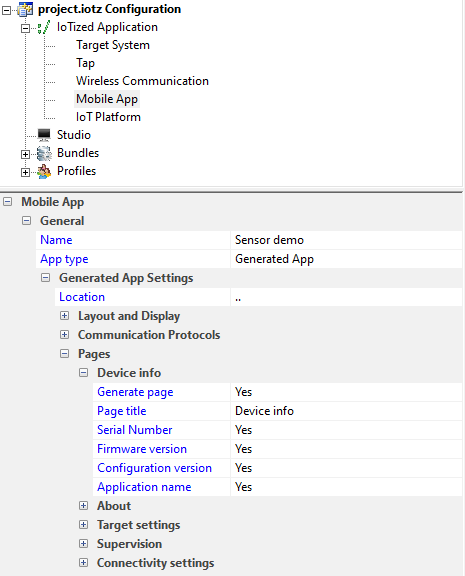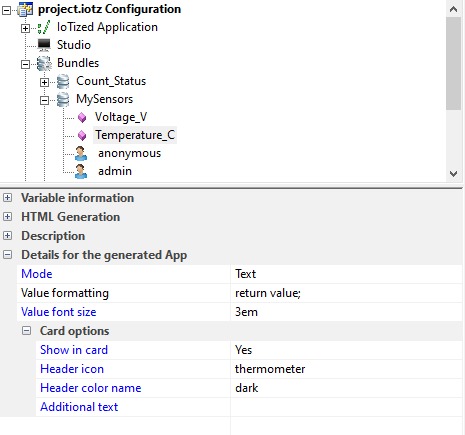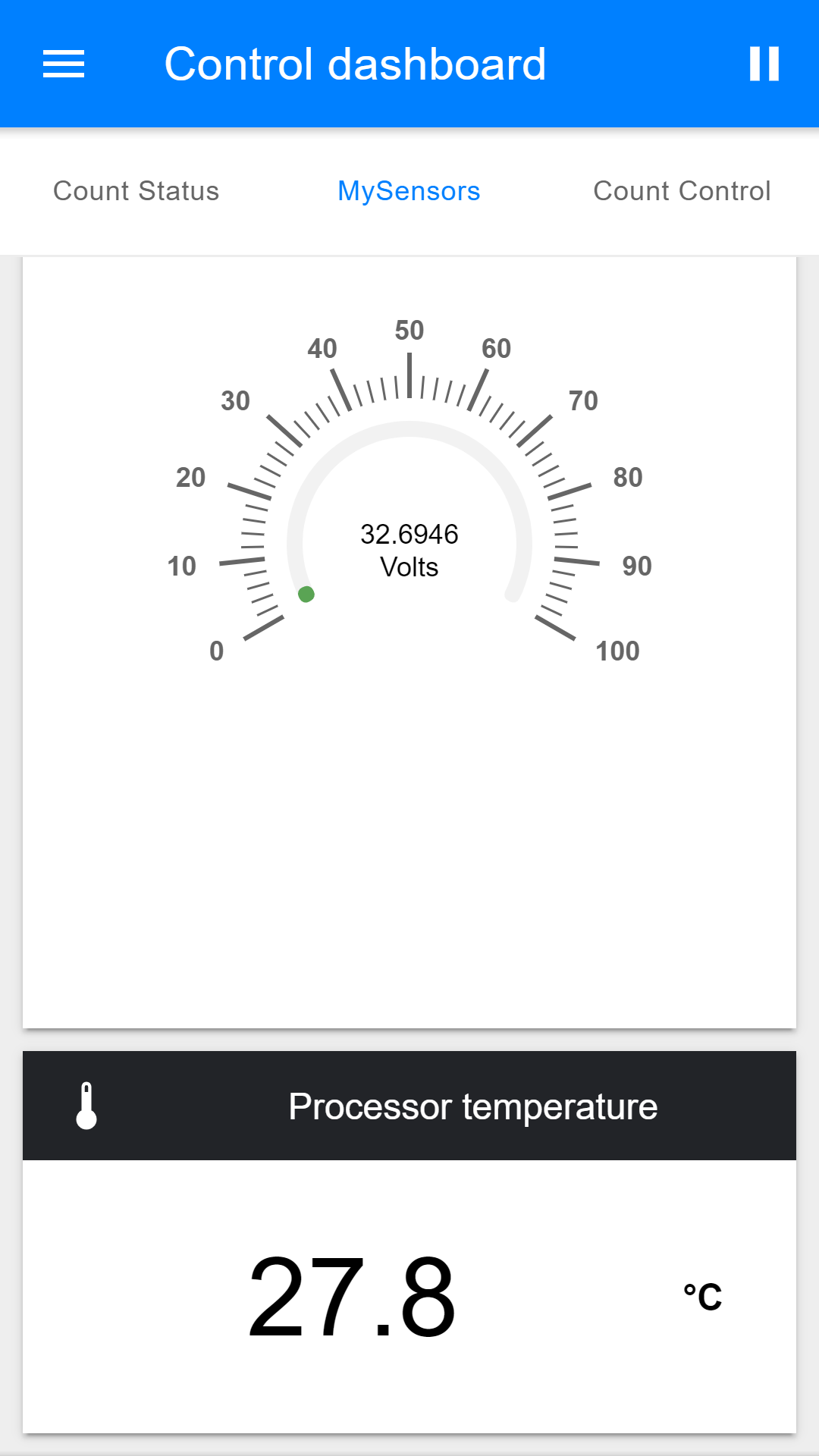 About¶
Display application developer, description and version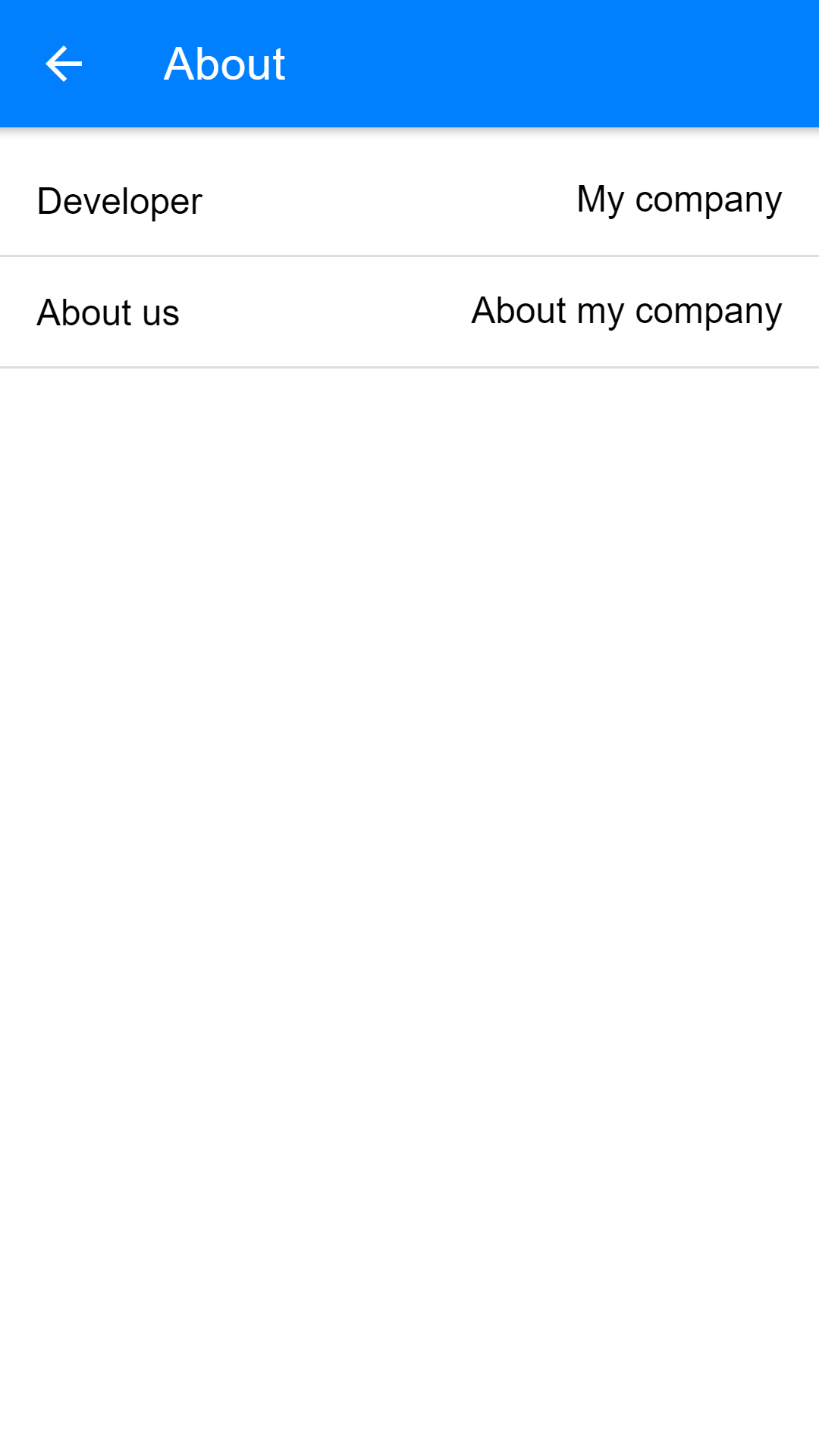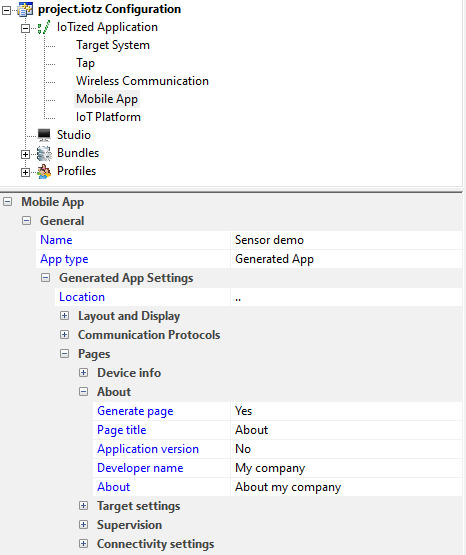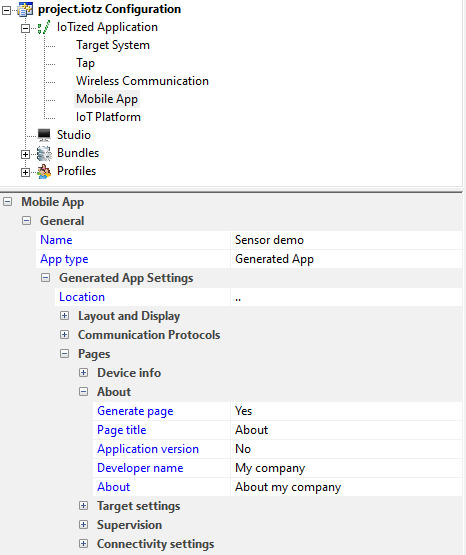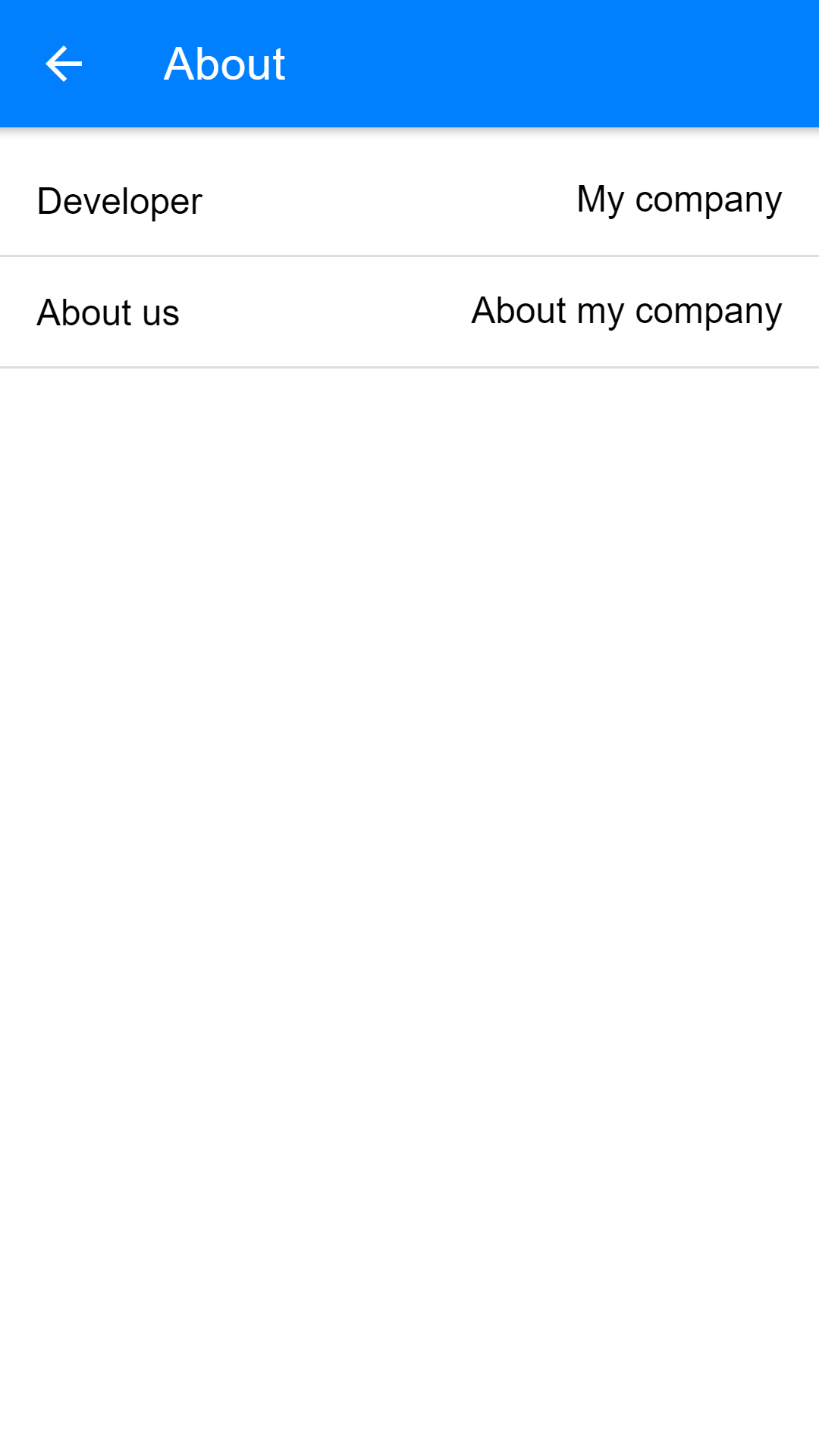 Serial settings¶
If your Tap is communicates with your target through serial, this page will allow you to reconfigure serial settings such as Baud rate and parity.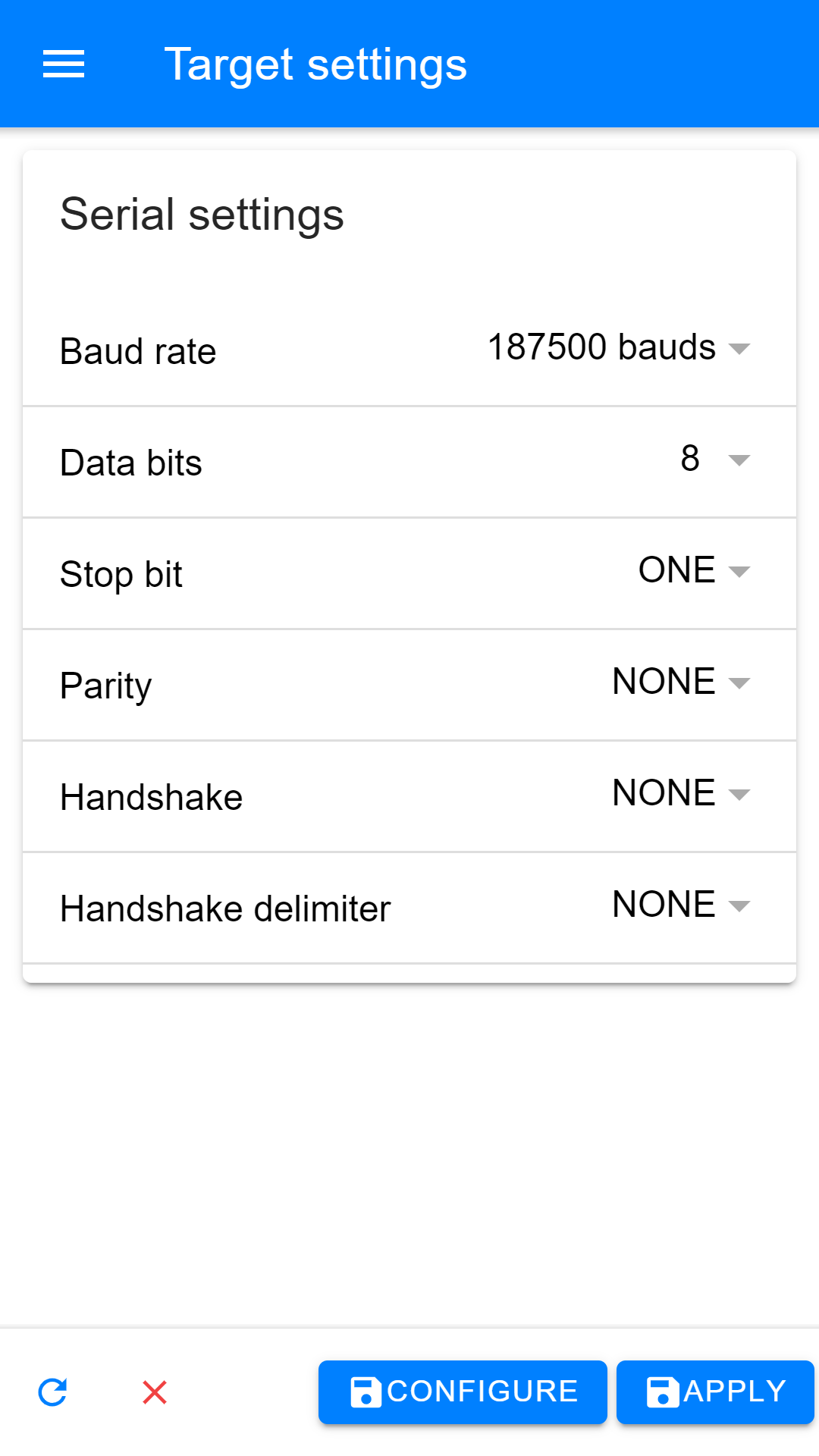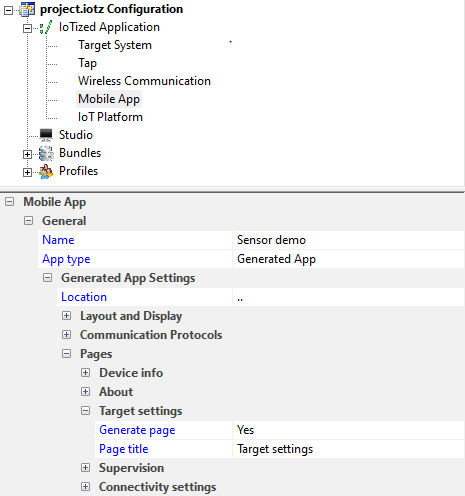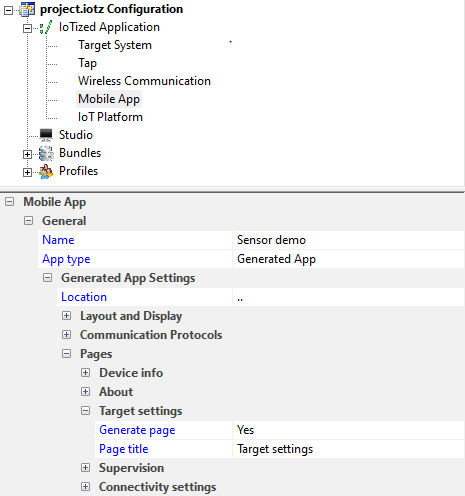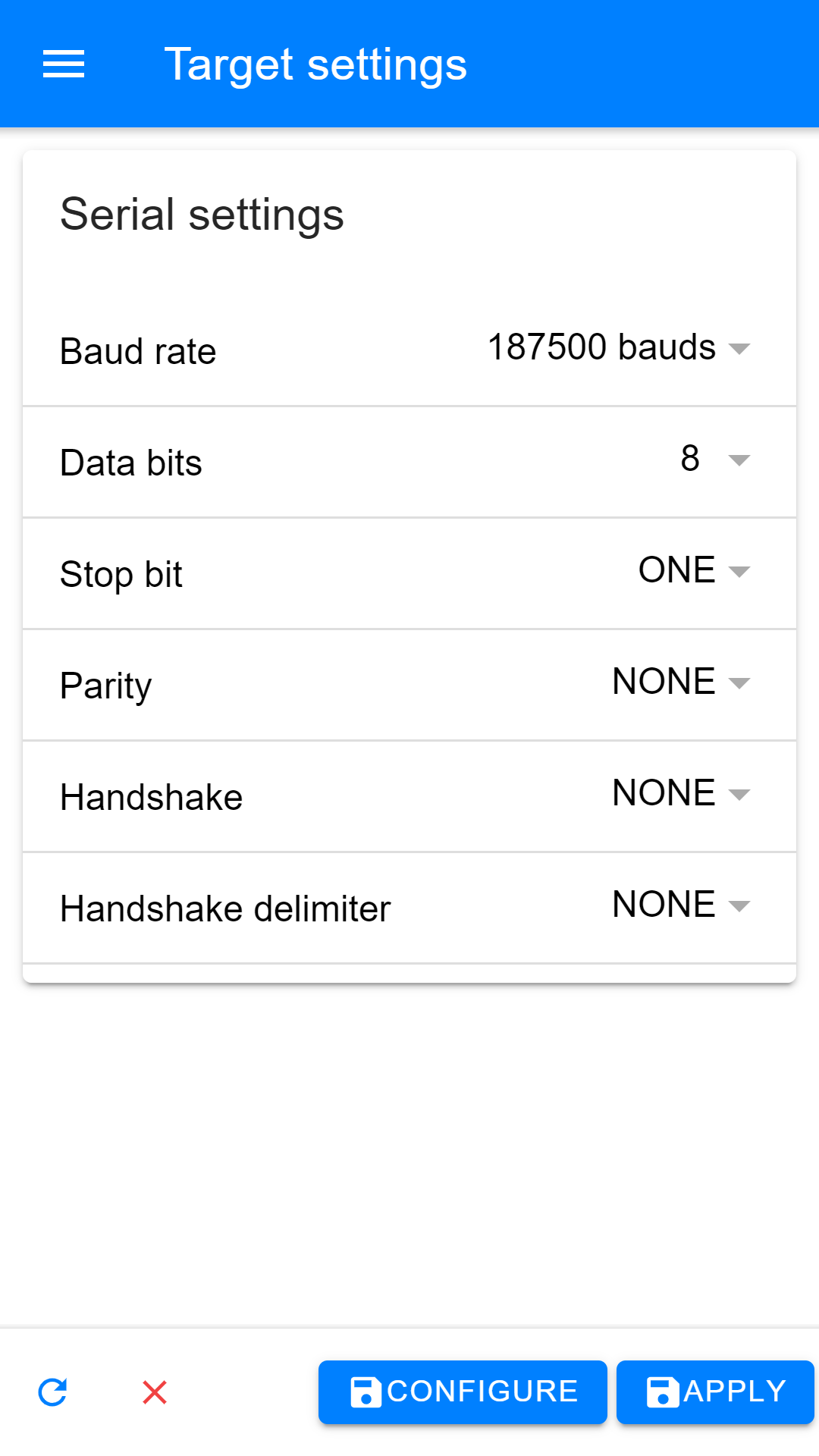 Connectivity settings¶
Configure/reconfigure Tap connectivity settings for NFC, BLE or Wi-Fi.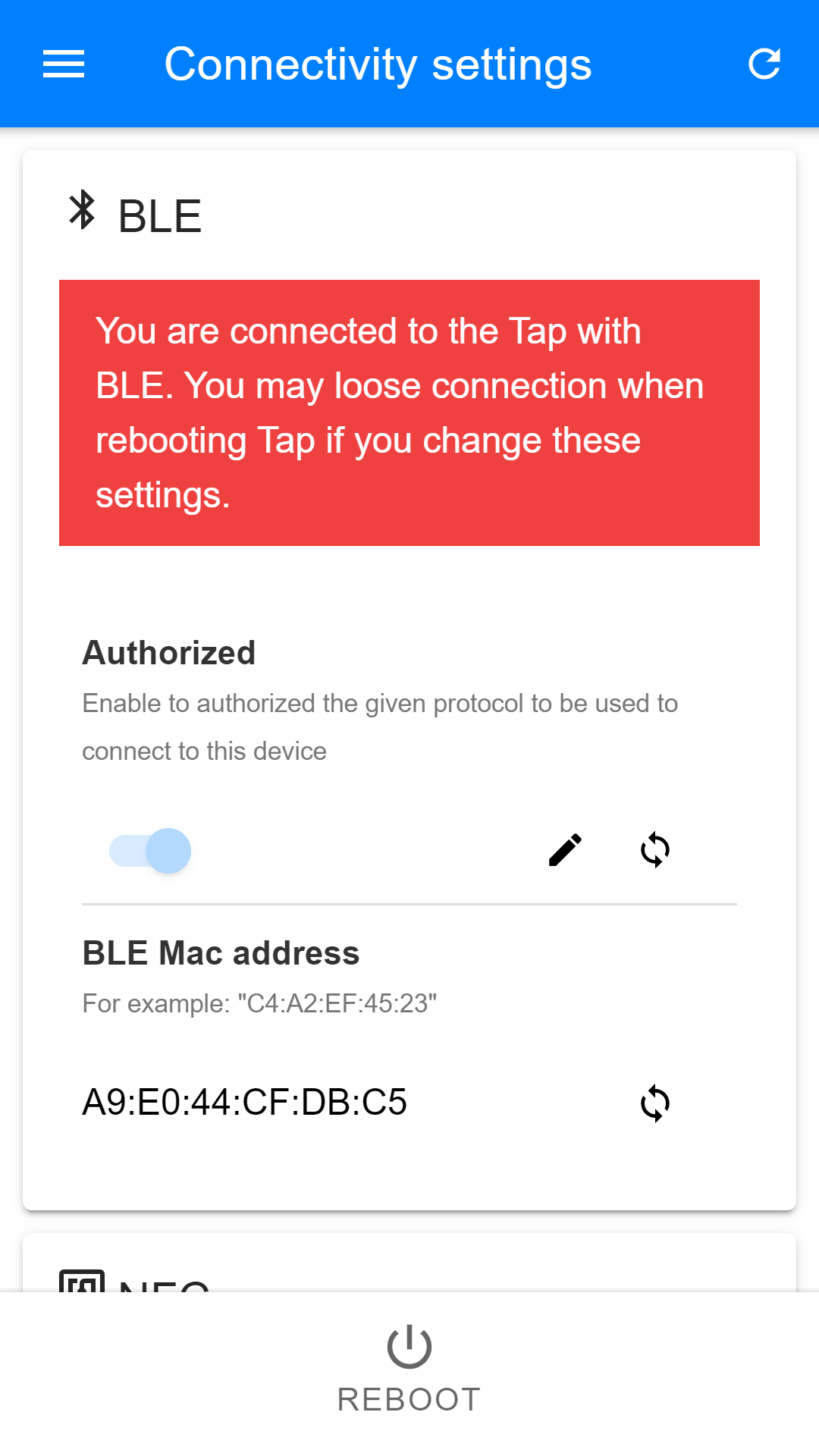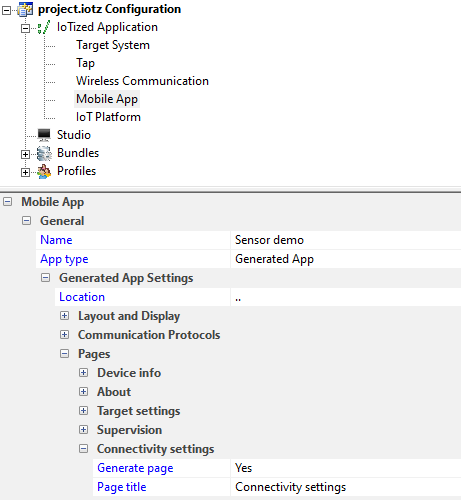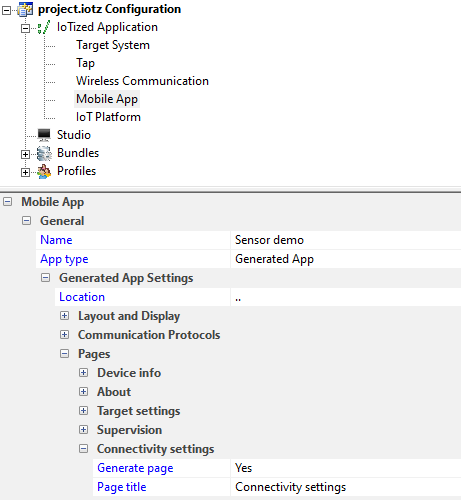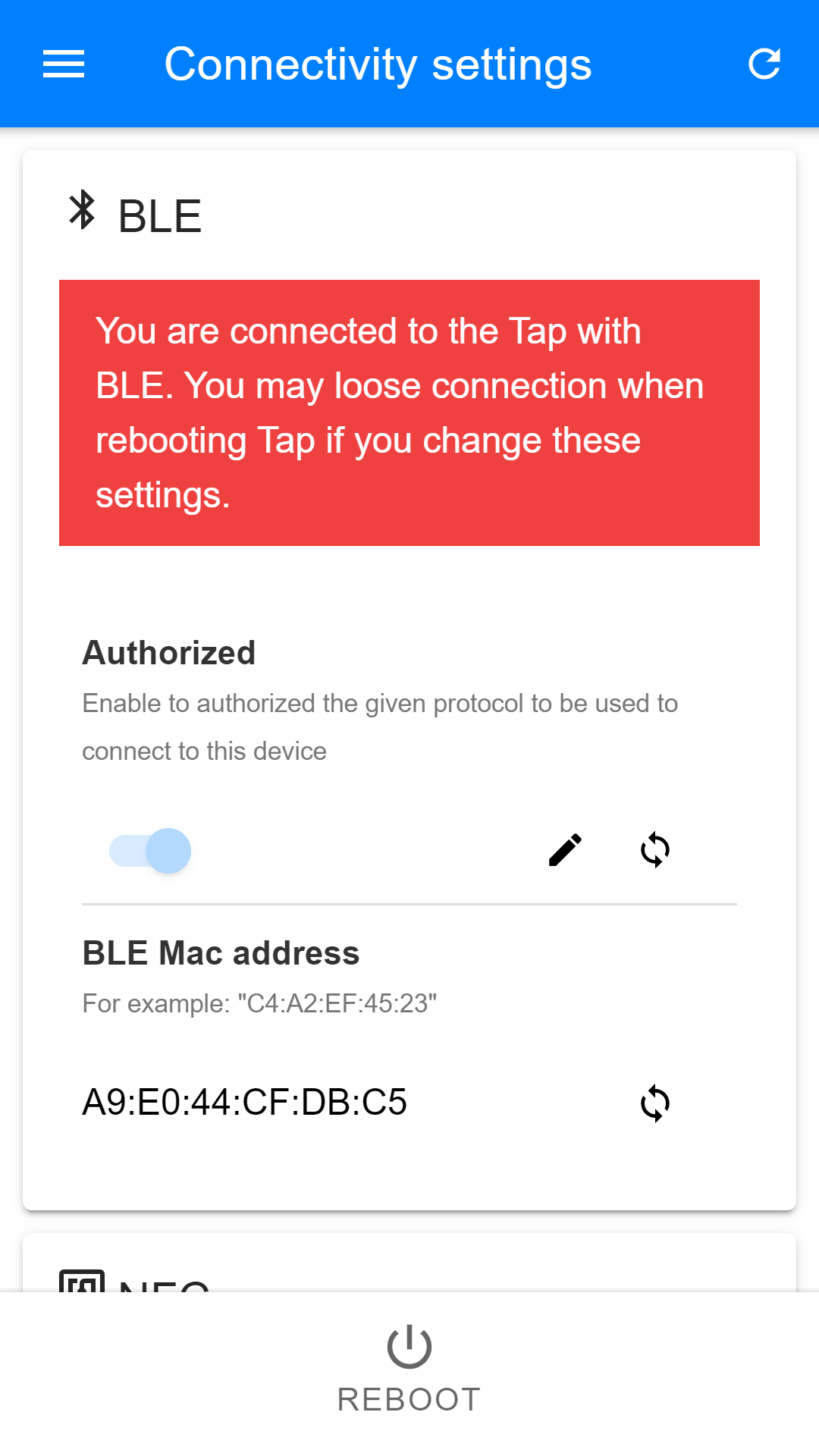 Supervision page¶
Supervision page provides an interface to change user passwords, session life time or data log acquisition period for bundles.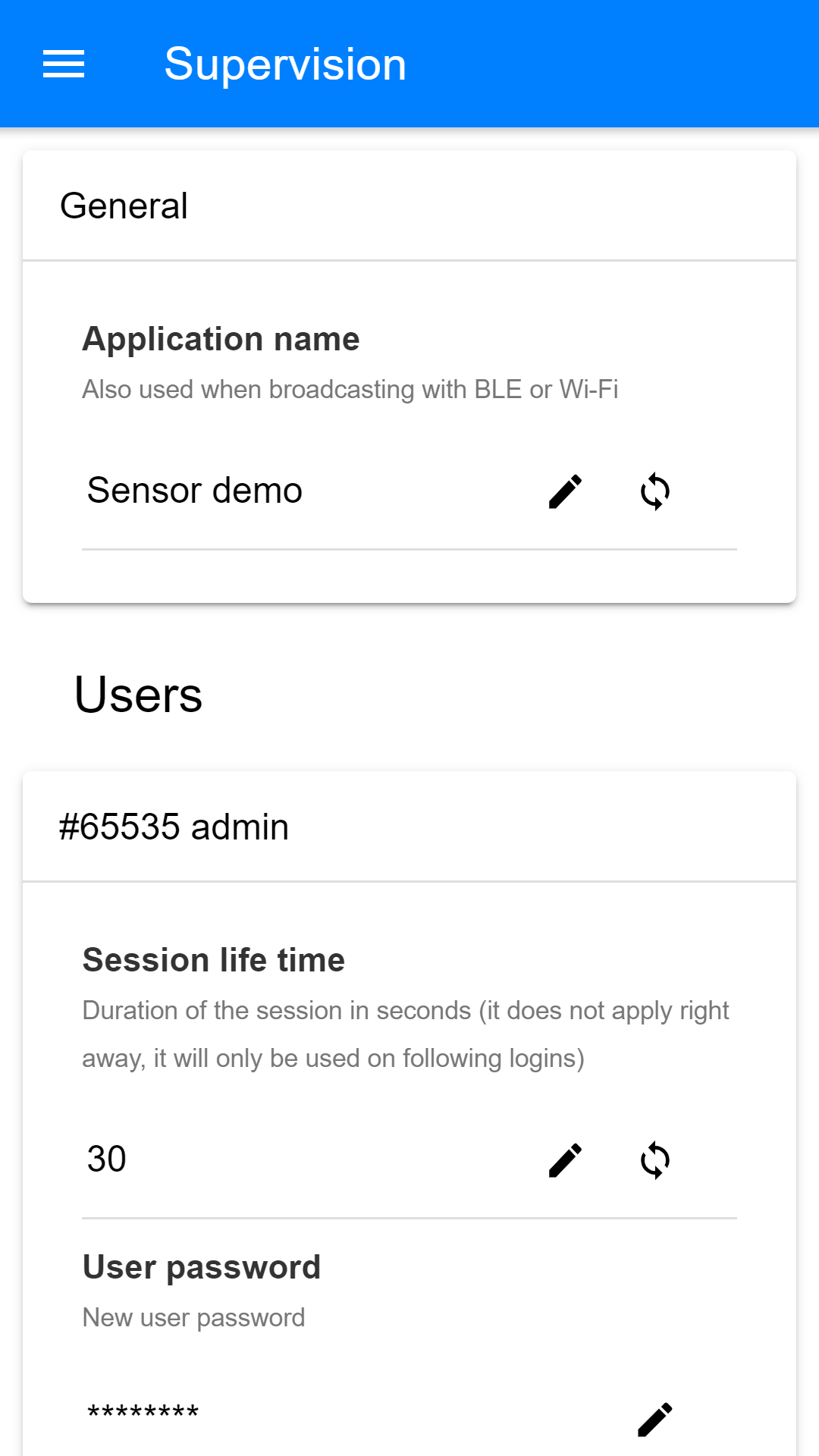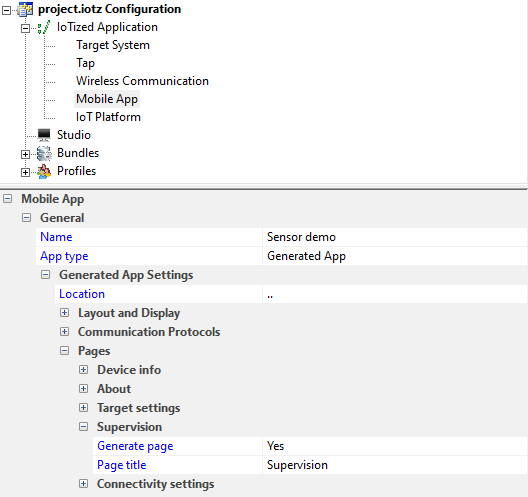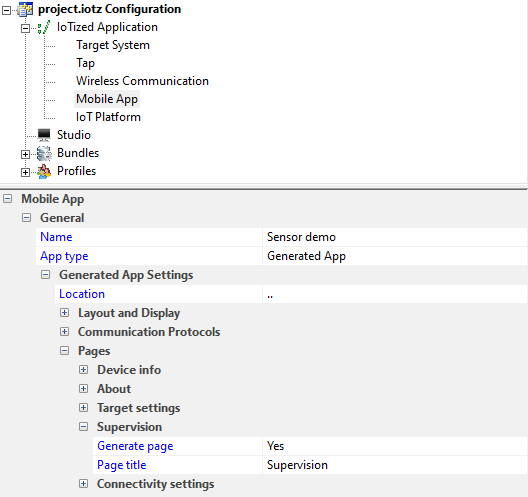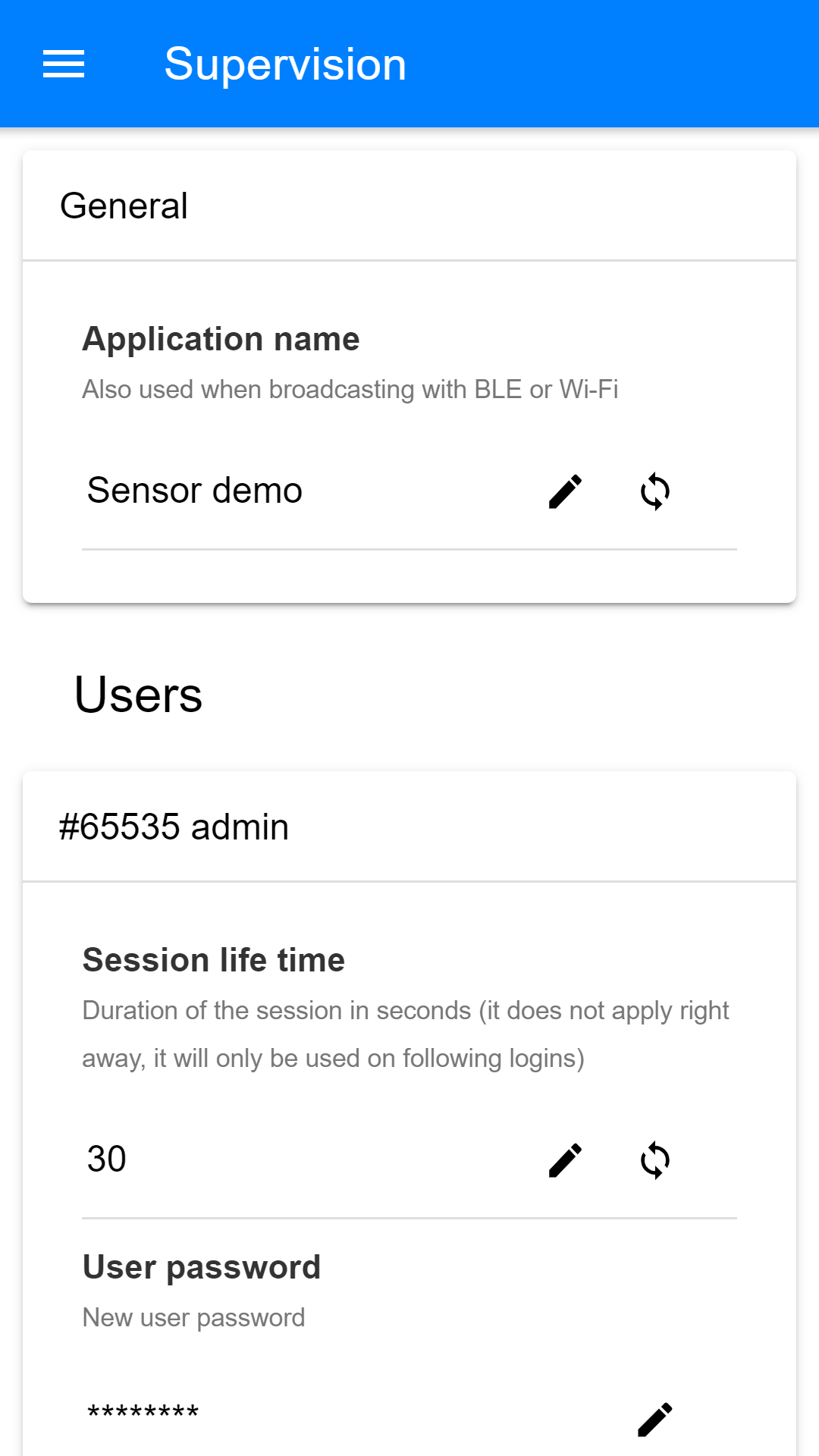 Application settings¶
Configure application theme colors, logo and splashscreen.
Architecture¶
The generated app project is based on ionicframework v4 and angular. Ionic framework documentation can be found here.
Ionic Framework is an open source UI toolkit for building performant, high-quality mobile and desktop apps using web technologies (HTML, CSS, and JavaScript). Ionic Framework is focused on the frontend user experience, or UI interaction of an app (controls, interactions, gestures, animations). It's easy to learn, and integrates nicely with other libraries or frameworks, such as Angular, or can be used standalone without a frontend framework using a simple script include.
Supported Plaforms¶
According to the runtime platform/version of the generated app, some features may or may not work.
Here a non-exhaustive list of supported platforms:
Mobile OS¶
Desktop browsers¶
| Browser | Supported | Tested version | Supported protocols |
| --- | --- | --- | --- |
| Chrome | YES | Tested on version 76.0.3809.132 | BLE, Websocket, MQTT |
| Safari | YES | Tested on version 12.1.2 | Websocket, MQTT |
| Opera | YES | Tested on version 63.0.3368.71 | Websocket, MQTT |
| Firefox | YES | None | Websocket, MQTT |
| Edge | YES | Tested on version 42.17134.1.0 | Websocket, MQTT |
| Internet Explorer | NO | | |
Mobile browsers¶
| Browser | Supported | Tested version |
| --- | --- | --- |
| Chrome | YES | None |
| Opera | YES | None |
| Safari | YES | None |